TEMPTATION CANCUN RESORT
AN AUTHENTIC, ADULTS-ONLY, ALL-INCLUSIVE RESORT EXPERIENCE
If you have been seeking an authentic, one-of-a-kind Playground for Grown-Ups, 21+, then brace yourself for a whole new level of adults-only vacationing! While playing at our adult-centric, all-inclusive resort with exclusive topless-optional areas, you will enjoy a sense of freedom you never knew existed, and not to mention an insanely sexy amount of fun
You will have so much fun discovering what our high-energy, multiple playgrounds have to offer… There is so much to choose from! Daytime is playtime at our sensational Sexy Pool, an unparalleled party zone with over-the-top activities. Later, join us at Bash, the heartbeat of our resort, which sets the scene for our sexy signature themes nights, where we will party with you all night long.
To recover from the party, enjoy one of the designated topless-optional areas throughout our resort, making an otherwise ordinary vacation extraordinary! Surrounded by a fun, empowering atmosphere, allowing you to feel sexy, free and uninhibited, Temptation Cancun Resort provides the perfect social platform to meet new friends and catch up with the old.
Our extraordinary staff, dedicated to exceeding your expectations, combined with the highest international hotel standards and ground-breaking design, complemented by authentic entertainment, global gastronomy and modern accommodations, will make your resort experience with us unforgettable and incomparable to that of any other.
Temptation Cancun Resort is the place to be…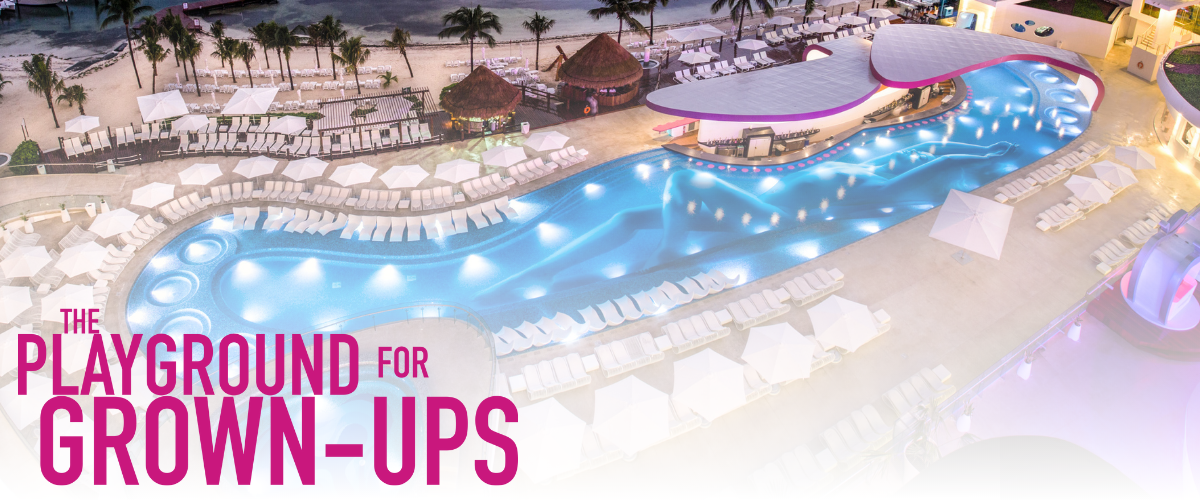 - Accommodation -
There comes a time in our lives when we want nothing but the best of the best, settling for less is no longer an option.
Designed by the visionary Karim Rashid, The Tower is a seven-story structure that has forever changed the landscape of Cancun's hotel zone. Stay where all the night action happens; The Tower is the heart of Temptation Cancun Resort. After sundown, change into the night's theme and get ready for sexy party time! Enter a world of music, excitement, and adventure by just getting off the elevator. If you prefer smaller crowds, SKY 3.5 at The Tower's roof top, with its own jacuzzi and bar, is just the spot.
Also, guests staying at any of suites, can enjoy exclusive, superb amenities and services. For those of you that go above and beyond, The Tower is for you!
For the sexiest Temptation Experience, stay in The Tower!
WHAT'S INCLUDED